Welcome to the official website of the Xi Zeta Omega Chapter of Alpha Kappa Sorority, Incorporated!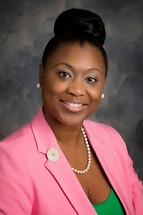 Greetings,
My name is Daphne Doyle Benbow, President of Xi Zeta Omega Chapter of Alpha Kappa Alpha Sorority, Incorporated. In 1982, Xi Zeta Omega became the second graduate chapter of our sorority established here in the District of Columbia.
We invite you to discover Xi Zeta Omega's history. We strive to exemplify the Alpha Kappa Alpha mission, "to be supreme in service to all mankind". For more than 35 years, members of Xi Zeta Omega have been committed to honoring the legacy of our founders. Xi Zeta Omega has sponsored numerous programs and activities to address social ills, encourage academic achievement, promote social justice and empower youth and families in the District of Columbia and greater metropolitan area. Today, our more than 230 members continue to "be of service to all mankind."
Our members are devoted to using their unique talents to elevate our sisterhood, in scholarship and service. Our goal is to focus on youth and families most in need. Xi Zeta Omega service in the community attracts like- minded organizations and corporations to partner with us to promote higher education and improve areas with social and economic challenges.
We trust you will find our website interesting! Our service is widely recognized within the sorority and in the community by the numerous awards and accolades we've received for our accomplishments. You are invited to join us in #Excellence as we set new goals and reach greater success. We welcome your support and participation at any community event.
As the 2018-2019 President, I am honored to have the privilege to serve as the leader of this chapter and to be a part of the rich legacy and history of this great organization. I look forward to working with you --- our community partners, members, and sponsors in #Excellence right here in our nations capital!
In Service!
Daphne Doyle Benbow
President